Mark Minore
Owner
Crown Home Inspection
Founded in 2014, Crown Home Inspection is proud to say that we have thousands of happy clients and counting. With over 35 years in the housing industry, Mark has continued to deliver exceptional service and value to clients at competitive rates. Having overseen the on-time and on-budget completion of numerous residential and commercial construction projects in his career, today Mark is ensuring that new home buyers have the piece of mind of knowing what they are getting when purchasing their new home. His role today as a home inspector is to be the eyes and ears of you, the new home-buyer. He makes sure that customers are never surprised after purchasing a property.
Mark adds value to both clients and real estate agents by providing a no-nonsense, honest and accurate assessment of a property in a timely and professional format. When purchasing a new home in Southwest Florida, you want the piece of mind knowing that Crown Home Inspection has ensured you are making the right investment.
Mark and Wendy moved to Florida in 2013 from New England, we were happily married for 16 years and between us have 4 adult children and 4 grandchildren and a dog named Henry.
They founded Crown Home Inspection with the core mission of always taking care of our customers.
As we all know life has been very difficult for most of us dealing with the worldwide pandemic. When you are a business owner during such times the challenges become magnified. Unfortunately we lost Wendy to this horrible illness in October of 2020.
I have chosen keep Wendy's bio as part of our story because she will forever not only be a part of who we are at Crown Home Inspection but will continue to be a guiding light in how we handle not only your home's inspection but how we treat you as a customer.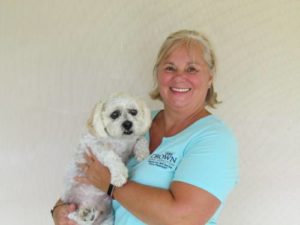 Wendy had a 25 year career in banking and was employed at a local bank until the time of her illness. Wendy aslo managed the office operations of Crown Home Inspection.
On her days off Wendy enjoyed attended and performed home inspections. The perspective that Wendy brought to home inspections improved our skills and made our company stronger in our approach to your home's inspection. Wendy's approach to dealing with our customers at Crown Home Inspection will remain as a guideline as you entrust us with your inspection needs.


Florida Licensed Home Inspector #HI-8691
Former Certified Building Contractor
NHIE Exam Certified #FLEBCPHI-1001618
National Home Inspector Examination
Trained and Certified by AHIT #0005080
American Home Inspector Training Institute LTD
Inter NACHI Certified #NACHI – 15010404
International Association of Certified Home Inspectors
Area Served
Charlotte County : Port Charlotte , Punta Gorda/Deep Creek , North Port and Rotonda West
Sarasota County : Sarasota, Venice, Englewood and North Port
Lee County : Boca Grande, Burnt Store Marina and North Fort Myers